Road Side Assistance Hotline: 1-877-222-5887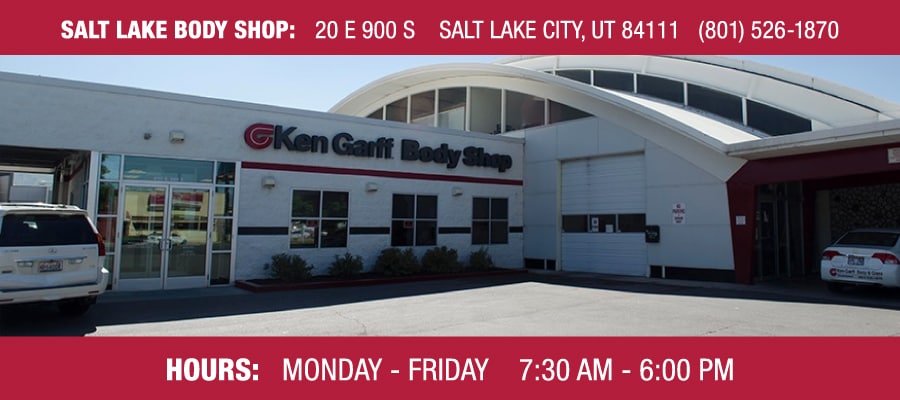 Our Body Shop offers the following  conveniences:
* I-Car Gold & ASE Certified
* Factory Trained Technicians
* Hassle Free Claims Processing
* State Of The Art Equipment
* Eco-friendly Paint


* 24 Hour Towing Service Available
* All Insurance Companies Accepted
* Pick Up & Delivery Shuttle Service Available
* Key Drop For Early Morning Or Late Evening
* Lifetime Workmanship Guarantee

* Repair All Makes & Models
* Complimentary Car Wash With Repair.
* Complimentary WiFi, Coffee & Drinks
* Thorough Professional Appraisal
* Visa, MasterCard, American Express and Discover


CLEAR CONVENIENCE
Why risk taking your car anywhere else when the best name in automobiles is so close? Ken Garff's staff members have experience with virtually every vehicle brand on the road today as well as every insurance carrier. You can't see convenience, but you'll certainly know how much better it makes you feel.

CLEAR EXPERTISE
Those I-Car and ASE certifications hanging on our walls mean your technician has completed many hours of advanced, continuing education. When it comes to your automobile, it's easier and safer to trust the experts.
CLEAR FINISH
We have the equipment and expertise to restore the frame and uni-body on your vehicle to the manufacturer's specifications, precisely match your vehicle's paint, and duplicate every detail of factory refinish work. With a repair so invisible, you might forget there was ever damage! 
CLEAR CHOICE
The Ken Garff Invisible Repair puts you back on the road with that same confidence you had when you first purchased your vehicle.